At Life Care Family Wellness & Chiropractic we have the pleasure of also being able to offer massage therapy, lactation support, hormone balance, and weight management through our team of wellness providers.
Bridget Ricau, is a licensed massage therapist. She provides cupping therapy, prenatal massage, deep tissue, and Swedish massage. She lives by the motto, "Massage brings out the best in you, and that is what I want to help people achieve."
Text Bridget at (985) 605-4425.
Michelle Roberts is the owner & founder of Southern Lactation Services, LLC. As a mother of 4 kids, Michelle knows how hard & challenging breastfeeding can be but it's also one of most beautiful experiences that she will always cherish.
Michelle has over 20 years of experience as a registered nurse with 17 of those years focused on working with moms & babies. With 12 plus years of experience as an International Board-Certified Lactation Consultant (IBCLC). She has helped more than 1,000+ moms reach their breastfeeding goals.
Michelle is a Slidell native and a graduate of Slidell High School. She received her Bachelor of Science in Nursing from Southeastern Louisiana University.
Hormone Balance & Weight Management
Lauren Born, APRN, FNP-C is a board-certified Nurse Practitioner with a passion for helping individuals regain their vitality through hormone balance and sustainable weight management. With years of experience in various healthcare settings, including Integrative Health Clinics, ICU, and Labor and Delivery, as well as a deep commitment to your well-being, Lauren is here to guide you on your path to better health.
Her journey in healthcare began with a strong desire to make a positive impact on people's lives. Over the years, she's had the privilege of working in multiple diverse healthcare environments, which have enriched her knowledge and skills. Witnessing the transformative power of achieving hormone balance and maintaining a healthy weight has driven her to specialize in these areas. Narrowing her focus has allowed her to provide targeted, patient-centered care to individuals seeking improved health and well-being.
Lauren also recognizes the importance of holistic well-being and she encourages her patients to consider the various aspects of their health, including physical, emotional, and lifestyle factors. She believes in working closely with her patients to develop personalized care plans that address their unique needs and preferences.
For more information or to schedule a consultation, please visit bornhealthandwellness.com.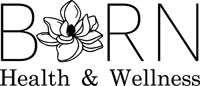 Ready to Book Your Next Appointment?
Returning patient? You can schedule online. Just click below! New patient? Call or text us at (985) 774-9303 and we'll be happy to schedule you.